By Kassia Micek
The California Independent System Operator is preparing for a reduction of over 9 GW of renewable generation during the Oct. 14 annular solar eclipse as solar-powered generation accounts for the vast majority of supply during the middle of the day.
The annular solar eclipse begins in the US in Oregon at 9:13 am PT and ends in Texas at 12:03 pm CT, according to NASA. An annular solar eclipse occurs when the moon passes in front of the sun, appearing slightly smaller than the sun, so it does not block the entire solar disk.
"We've been trying to get ahead of this," CAISO President and CEO Elliot Mainzer said during his CEO report to the Western Energy Imbalance Market governing body Sept. 19. "It'll be an interesting moment."
Renewables account for roughly 70% of supply during midday peak with solar making up over 80% of renewable generation at its daily peak, according to CAISO data.
The grid operator's short-term forecasting team detailed the eclipse's impacts to the region in a recent technical bulletin that shows grid-scale renewables generation is expected to decline by 9.374 GW, while at the same time, gross load will increase by 2.374 GW.
"These changes will lead to steeper ramping conditions on both the up-ramp to the eclipse max and down-ramp following the eclipse return," Mainzer wrote in his CEO Report.
The ISO will coordinate with Reliability Coordinator West, utility distribution companies, and WEIM entities to ensure stable market operations to support reliable system operations on the eclipse day.
Activist Post is Google-Free — We Need Your Support
Contribute Just $1 Per Month at Patreon or SubscribeStar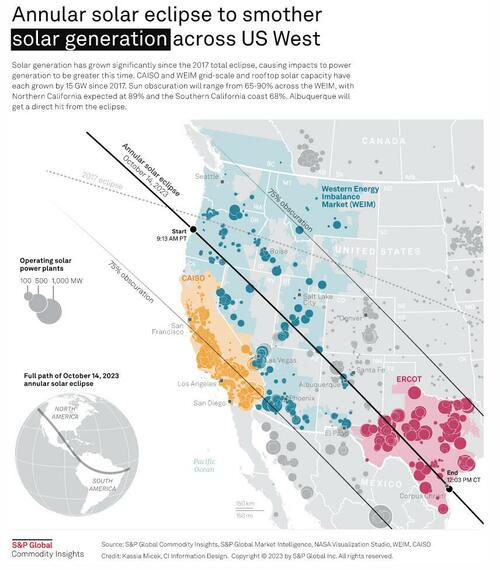 Regional eclipse impacts
The WEIM, which covers much of the West, will be affected by the eclipse from about 8 am through 11 am PT, according to the CAISO technical bulletin. Each WEIM area will have varying times and magnitude of impact, with sun obscuration ranging from 65%-90%.
The California Balancing Authority Area will be affected from about 8:05-10:57 am PT, ranging from 89% sun obscuration in Northern California to 68% along the Southern California coast, according to the technical bulletin. CAISO will work with both interstate and intrastate gas suppliers to ensure availability during the eclipse, as well as with hydro and battery resources to assist with large ramps.
The Bonneville Power Administration expects to see some fluctuations in generation and loads here in the Pacific Northwest – but nothing that should impact reliability, BPA spokesperson Doug Johnson said Sept. 20.
"We are staying in touch with our Reliability Coordinator and others across the Western Interconnection to coordinate and cooperate," Johnson said.
The Electric Reliability Council of Texas will rely upon its gas fleet to make up the different as solar generation goes down during the eclipse.
NV Energy did not reply to a request for comment.
The Public Service Company of New Mexico declined to comment on the record.
Solar generation growth
The US experienced a total solar eclipse on Aug. 21, 2017, but solar capacity has grown significantly since then, making the effects of this year's eclipse stronger.
"This is going to be a more impactful event because the growth in solar capacity since 2017 has been pretty remarkable," Mainzer said Sept. 19.
CAISO's grid-scale and rooftop behind-the-meter solar have grown by 6.5 GW and 8.55 GW since 2017, respectively, while WEIM footprint grid-scale and rooftop solar have grown by 9.414 GW and 5.720 GW, respectively, according to the technical bulletin.
"Since then, the CAISO has also started offering reliability coordination services to the bulk of balancing areas in the Western Interconnection as the RC West, and there are now 21 balancing areas that participate in the WEIM," CAISO said in the technical bulletin. "With the West more interconnected now than ever, the CAISO is evaluating the effects of the 2023 solar eclipse with a broader scope. Impacts will be felt across all of the utilities at various times and magnitudes within the WEIM and RC West, and entities can utilize these connections and relationships to maintain reliable operations, collaborate and optimize resources throughout the eclipse."
California leads the US in solar capacity with 17.934 GW by the end of Q2, according to the American Clean Power Association's Q2 report. CAISO manages the flow of electricity for about 80% of California and a small part of Nevada.
CAISO set a solar generation peak record of 16.044 GW at 12:18 pm PT Sept. 6, breaking a two-month-old record.
Source: S&P Commodity Insights via ZeroHedge
Image: Pixabay
Become a Patron!
Or support us at SubscribeStar
Donate cryptocurrency HERE
Subscribe to Activist Post for truth, peace, and freedom news. Follow us on SoMee, Telegram, HIVE, Flote, Minds, MeWe, Twitter, Gab, and What Really Happened.

Provide, Protect and Profit from what's coming! Get a free issue of Counter Markets today.