By Mary Prenon
When it comes to housing, living expenses, taxes, insurance, and even grocery costs, South Dakota is the winner for the most affordable place to live in the United States. In its "Cheapest States to Live in 2023" report, Scholaroo, a college scholarship search platform, analyzed all 50 states using 31 metrics, which also included cable, internet, utility, medical, transportation, and even haircut and manicure costs.
Indiana came in second, followed by Arkansas, Mississippi, and Nebraska.
Scholaroo spokesperson Abigail Da Costa told The Epoch Times that this is the first time the platform has conducted the analysis on the average cost of living in all 50 states.
"While individual preferences and economic circumstances will inevitably influence personal costs, the primary aim of this report is to serve as a comprehensive guide on the estimated expenses of living in each state," Ms. Da Costa said. "Prospective homebuyers can also benefit from this study, as it provides valuable insights into the most suitable locations to purchase property based on their financial situation."
Amy Stockberger, broker and owner of Amy Stockberger Real Estate in Sioux Falls, South Dakota, wasn't surprised that her state was named the most affordable in the nation.
(Courtesy of Scholaroo)
"We're a little hidden gem and everything from groceries to utilities and gas prices is reasonable, plus in Sioux Falls, job wages are comparable to other larger metro areas," Ms. Stockberger told The Epoch Times.
With a median single-family home price of $312,000 inside Sioux Falls, the area has been attracting buyers from California, Minnesota, and the Northeast. In 2022, the state's largest city saw an influx of about 7,000 people.
"We do get a strong population of people who want to retire here," she said. "We have a low crime rate, a lower cost of living, and no pollution. In fact, for the first time in my 23-year career, I've seen siblings and relatives of relocating families also following them to move here."
Another incentive to move to South Dakota, Ms. Stockberger said, is the fact that it has no state income tax. "It's a great place to start a business as well," she said.
With four seasons, the state offers attractive outdoor activities such as hiking, biking, and sledding. Sioux Falls alone has more than 80 parks and 30 miles of bike trails.
"We've been listed many times as one of the best places to raise a family," Ms. Stockberger said.
While South Dakota scored the overall best location for affordability, the Scholaroo report names West Virginia the leader in affordable homebuying options, with the average monthly mortgage cost for a single-family home at $879, followed by Arkansas at $947, and Alabama at $970. On the other end, the average mortgage payments for California, New York, New Jersey, Connecticut, Massachusetts, and Hawaii are all above $2,000. California had the highest cost with an average of $2,402.
Joshua McGrath, CEO of BHG Real Estate Central in Charleston, West Virginia, has been selling residential real estate for almost 25 years.
"Since the pandemic, I've seen more and more people relocating to West Virginia," Mr. McGrath told The Epoch Times. "In addition to affordability, people are looking for more spacious land. They don't want a tight community with no yard."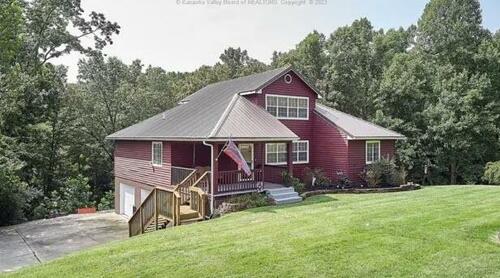 A three-bedroom home, listed at $289,000, sits on three acres in Scott Depot, W.Va. (Courtesy of BHG Real Estate Central in Charleston, W.V.)
He said that he's currently working with a couple from Colorado who've decided to move back to their West Virginia roots. "They can sell their home there, relocate here, reduce costs by about 50 percent, and still have a comparable house," Mr. McGrath said.
One of his recent listings for a three-bedroom, two-bath home on three acres had 26 showings and six offers in just 48 hours. "We're still seeing bidding wars here, and the accepted offer was well over the $289,000 asking price," he said.
Low taxes are another reason that West Virginia scores high on the affordability charts—the average taxes on a single-family home are less than $2,000 a year. Outdoor activities such as hiking, zip lining, and white-water rafting are other draws to the area.
While Charleston is the state's capital and is considered a smaller city, it's just a few hours away from major metropolitan areas such as Lexington, Kentucky, and Cincinnati.
In terms of median home value, Scholaroo reports that Mississippi has the lowest in the nation, followed closely by West Virginia, Arkansas, Oklahoma, and Kentucky. Conversely, Washington state came in with the highest home value, followed by Massachusetts, New York, California, and Hawaii.
Maryland takes the lead for the highest annual median household income at $91,431, followed closely by New Jersey at $89,703, and Massachusetts at $89,026. Mississippi holds the No. 1 spot for the lowest annual median income at just $49,111. West Virginia, Louisiana, Arkansas, and New Mexico are also included on the list of annual household median incomes under $60,000.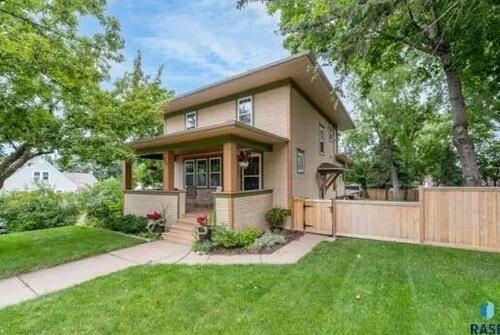 A three-bedroom home, listed at $315,000, in Sioux Falls, S.D. (Courtesy of Amy Stockberger Real Estate in Sioux Falls, S.D.)
For apartment dwellers, West Virginia ranked first in terms of the least expensive state. The median rental rate for a one-bedroom apartment is $732 per month. Arkansas is a close second with a monthly rental rate of $760, followed by South Dakota at $761. Kentucky at $783 and Mississippi at $789 close out the top five most affordable apartment rental locations.
Meanwhile, Hawaii takes the lead for the most expensive rents, with an average of $1,651 monthly. California comes in second with an average rent of $1,586, and Maryland is third with $1,415. Rounding out the top five most expensive rental states are New Jersey and Washington state, both with rents above $1,300.
"The reality is that there were no surprises here," Ms. Da Costa said. "It was expected that the states located in the Midwest region would be the most affordable, and the states located on the coasts, such as California, New York, or Hawaii, the most expensive."
Realtor.com's newly released June Rental Report shows rental prices dropping nationwide by 1 percent year-over-year, but the median asking rent in the 50 largest metro areas increased by $7 from the previous month to $1,745. However, that number represents a $31 drop from its peak in July 2022.
"The downward trend in rent prices continued in June, providing a much-needed respite for renters and an opportunity to regain some control over their housing expenses," said Danielle Hale, Realtor.com's chief economist. "With our midyear forecast update calling for slowing inflation, better-than-expected labor market performance, and an increase in multi-family supply, we're seeing some encouraging signs for renters' budgets as we enter the second half of the year."
The report indicates that rent in Western metros is declining faster than in other parts of the country, with a 3.8 percent decline year-over-year. San Jose, the last large Western metro to show a slide in rental prices, saw its first year-over-year rent drop in nearly two years. In contrast, rents in Northeastern hubs such as New York City and Boston continued to escalate. Rents in the Midwest are still climbing, as well.
Half of the top 10 metros experiencing the most rent growth are located in the Midwest. Only in the South have rent costs declined compared to a year ago. Oklahoma City's median monthly rental of $1,025 makes it the country's most affordable city in which to lease an apartment. Cincinnati offers monthly rents at $1,188, followed by Louisville/Jefferson County in Kentucky and Indiana at $1,210, and Columbus, Ohio, at $1,211. The fifth place goes to another Ohio locale—Cleveland/Elyria—at $1,236 per month.
Three of California's metro regions topped the chart with a median monthly rental cost of $3,301 in San Jose-Sunnyvale-Santa Clara, followed by San Diego-Carlsbad at $3,029, and San Francisco-Oakland-Hayward at $2,960. New York City's metro area median rental cost ranked fourth at $2,899, and the Washington metro area completed the list of the top five most expensive rents in the country with a median rent of $2,232. Realtor.com used a compilation of rents from studio, one-, and two-bedroom apartments.
Source: The Epoch Times via ZeroHedge
Mary T. Prenon covers real estate and business. She has been a writer and reporter for over 25 years with various print and broadcast media in New York.
Become a Patron!
Or support us at SubscribeStar
Donate cryptocurrency HERE
Subscribe to Activist Post for truth, peace, and freedom news. Follow us on SoMee, Telegram, HIVE, Flote, Minds, MeWe, Twitter, Gab, and What Really Happened.

Provide, Protect and Profit from what s coming! Get a free issue of Counter Markets today.