By Tyler Durden
In yet another ominous sign, consumers are being pushed to the financial brink, leading some to abandon homeowner insurance due to soaring premiums. Without this coverage, homeowners are left vulnerable to fires, burst pipes, theft, vandalism, and windstorms.
"Some skipping insurance say they are doing so because they can no longer afford the rising premiums," said The Wall Street Journal. New Bankrate data shows insurance on a $250,000 home jumped to $1,428 annually, up 20% from 2022. That's about a $119 monthly payment.
Amy Bach, executive director at United Policyholders, a national nonprofit insurance consumer-advocacy group, said an increasing number of homeowners in the past several years who have no mortgage or inherited a home are abandoning insurance because they can't afford it.
"It is a risky proposition to go without home insurance, and you need to fully understand the financial consequences if you lose your home," said Noah Damsky, a financial adviser in Los Angeles.
WSJ spoke with Larry Farinholt, who owns a 1,100-square-foot home in the Los Angeles metro area and last had home insurance a quarter century ago. He estimates a $50,000 savings, though if anything happened, such as a fire, he would be devastated:
"It would probably be financially devastating if I lost my house." 
The good news, unlike a majority of Americans who live paycheck to paycheck, Farinholt said if disaster struck, he would be able to afford a condo due to his savings.
Activist Post is Google-Free
Support us for just $1 per month at Patreon or SubscribeStar
According to a 2023 survey by the Insurance Information Institute, an industry trade group, and the reinsurer Munich Re, about 12% of US homeowners don't have homeowners insurance — and half of them have household incomes under $40,000 per year.
Some borrowers cannot service their mortgage debts, blaming late or missed payments on rising insurance premiums, Rick Sharga, founder and CEO of CJ Patrick, a real-estate consulting firm, said.
Meanwhile, insurance companies have said premiums are rising because of inflation:
"The cost to insure new home customers in California is far higher than the price they would pay for policies due to wildfires, higher costs for repairing homes, and higher reinsurance premiums," said a recent statement from Allstate explaining its decision to stop writing new policies. 
Matthew Carletti, an insurance industry analyst for JMP Securities, said the rebuilding and replacement home costs have surged between 2019 and 2022.
Similar surges have been seen in auto insurance, citing the same reasons: rising part and labor costs.
Homes and automobiles are becoming even more unaffordable for the working poor, forcing some into a dystopic lifestyle where they own nothing.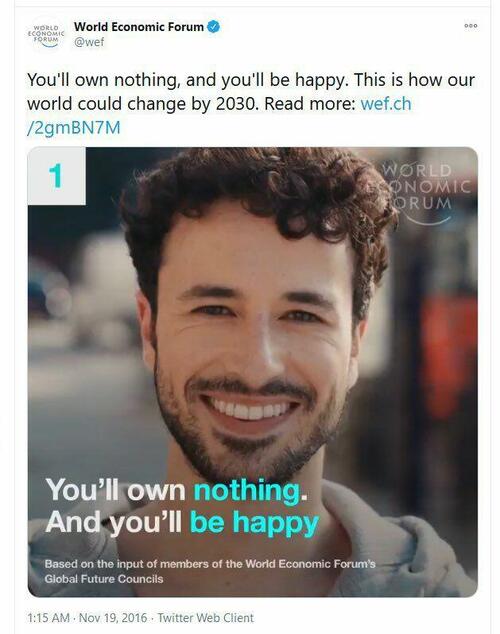 And according to WEF, they'll be happy…
Source: ZeroHedge
Become a Patron!
Or support us at SubscribeStar
Donate cryptocurrency HERE
Subscribe to Activist Post for truth, peace, and freedom news. Follow us on SoMee, Telegram, HIVE, Flote, Minds, MeWe, Twitter, Gab, and What Really Happened.

Provide, Protect and Profit from what's coming! Get a free issue of Counter Markets today.