By Tyler Durden
The U.S. Supreme Court on Thursday morning struck down a New York state gun law that made it difficult to obtain a handgun carry permit.
In an opinion penned by Justice Clarence Thomas, the court ruled 6-3 to strike down the New York law.
The Supreme Court STRIKES DOWN a New York gun-control law that required people to show "proper cause" to get a license to carry a concealed handgun outside the home. The vote is 6-3. https://t.co/jA2Gl7lTiG

— SCOTUSblog (@SCOTUSblog) June 23, 2022
Thomas writes that the Second and Fourteenth Amendments protect Americans' right to carry a handgun for self-defense.
The court holds that New York's "proper cause" requirement to obtain a concealed-carry license violates the Constitution by preventing law-abiding citizens with self-defense needs from exercising their Second Amendment right to bear arms in public.
As Constitutional lawyer Jonathan Turley noted on Twitter:
"New York's proper-cause requirement violates the Fourteenth Amendment by preventing law-abiding citizens with ordinary self-defense needs from exercising their Second Amendment right to keep and bear arms in public for self-defense.

"In keeping with Heller, we hold that when the Second Amendment's plain text covers an individual's conduct, the Constitution presumptively protects that conduct. To justify its regulation, the government may not simply posit that the regulation promotes an important interest." 
What this could mean for the eight states that have "May Issue" concealed carry laws is a pivot to "Shall Issue" that requires fewer restrictions in obtaining a concealed carry permit.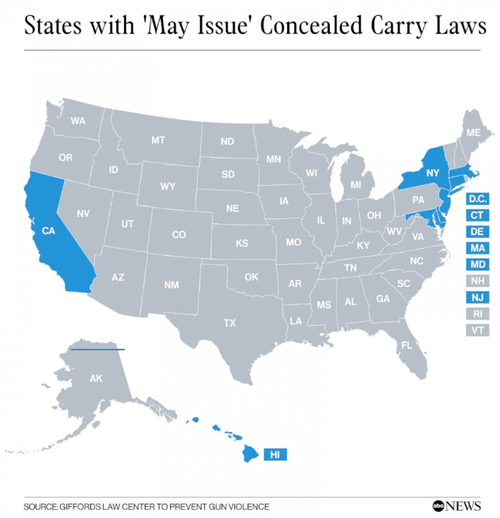 SCOTUSblog responds to the ruling by saying: "What a great day for our Constitution!"
Here's the full text: 
SCOTUS_NY_CARRY_RULING by Zerohedge
Source: ZeroHedge
Image: FEE
Become a Patron!
Or support us at SubscribeStar
Donate cryptocurrency HERE
Subscribe to Activist Post for truth, peace, and freedom news. Follow us on SoMee, Telegram, HIVE, Flote, Minds, MeWe, Twitter, Gab, What Really Happened and GETTR.

Provide, Protect and Profit from what's coming! Get a free issue of Counter Markets today.