By Aaron Kesel
Hate him or love him, Alex Jones was almost surely set up with images of child pornography emailed to Sandy Hook lawyers since child pornography attacks happened  years ago to other alternative journalists and Jones' name was mentioned in a threatening email from an alleged hacker group that claimed they would "destroy patriots."
First, in the spirit of transparency, this writer dislikes and detests Alex Jones' politics and at times his fear mongering over the years as well as the fact he is supporting Trump. However, a journalist's job isn't to be biased and paint a narrative, it's to report all the facts and let the readers decide.
With all that said, a very peculiar narrative is playing out here that could affect way more than just Infowars. So to that Alex, despite our differences here's some evidence in this article to use in your defense, I'll take at least some of that $1 million dollar reward now that you promised, the rest you can send to Activist Post. 😉
"You're trying to set me up with child porn, I'll get your ass," Jones said in a recent video. "One million dollars, you little gang members. One million dollars to put your head on a pike."
Jones went into a passionate rant defending his own sexuality, saying he likes "women with big giant tits and big asses. I don't like kids like you goddamn rapists… I pray for divine intervention against the powers of Satan. I literally would never have sex with children. I don't like having sex with children. I would never have sex with children."
Chris Mattei, one of the lawyers representing Sandy Hook families for their defamation suit against Jones, also says that Jones explicitly threatened him and his colleagues in a Friday broadcast on his website, Infowars, in which he claimed to have been attacked with malware that placed child pornography on his servers, as Daily Beast reported.
It's abundantly obvious that Alex Jones was set up, and even the FBI was given copies of the emails in question and confirmed that Jones was the victim and would not be investigated for the incidents according to Infowars. Jones published stories announcing this on his own site, and even some mainstream media outlets followed up their own articles during Friday-Saturday, repeating the point that Jones was the victim.
However, on Sunday and continuing now, it's as if an official deep state "hit" has been issued on Jones through the mainstream press, with an absolute bombardment of defamatory headlines from dozens of high-profile mainstream media outlets including – New York Times, BuzzFeed, The Hill, and more below. All are claiming Jones emailed Sandy Hook lawyers child pornography, painting him as a child predator.
HEADLINES:
Sandy Hook lawyers say child porn found in Alex Jones emails
https://www.marketwatch.com/story/sandy-hook-lawyers-say-child-porn-found-in-alex-joness-emails-2019-06-17
Alex Jones sent Sandy Hook victims files with child sexual abuse images, say lawyers
https://www.theguardian.com/world/2019/jun/17/claim-alex-jones-child-sex-abuse-images-sandy-hook-victims
Lawyers for Sandy Hook families say Alex Jones sent them child pornography
https://nypost.com/2019/06/17/lawyers-for-sandy-hook-families-say-alex-jones-sent-them-child-pornography/
Lawyers: Files sent by Alex Jones contained child porn
https://www.washingtonpost.com/national/lawyers-say-infowars-host-alex-jones-sent-them-child-porn/2019/06/17/bb75ef52-913d-11e9-956a-88c291ab5c38_story.html
Alex Jones sent files containing child pornography to lawyers for Sandy Hook
https://www.independent.co.uk/news/world/americas/alex-jones-child-pornography-claims-sandy-hook-lawyers-files-a8962951.html
Alex Jones Documents Sent to Sandy Hook Families Had Child Porn
https://www.newsweek.com/alex-jones-documents-sent-sandy-hook-families-had-child-porn-1444440
Sandy Hook victims claim Alex Jones email contain child porn, he says it was planted
https://www.rt.com/usa/462103-alex-jones-child-porn/
Alex Jones allegedly sent child porn to Sandy Hook parents
https://theweek.com/speedreads/847667/alex-jones-allegedly-sent-child-porn-sandy-hook-parents
Alex Jones faces court action after threatening Sandy Hook lawyer
https://www.thedailybeast.com/infowars-conspiracy-theorist-alex-jones-faces-court-action-after-threatening-sandy-hook-lawyer
https://www.wshu.org/post/alex-jones-allegedly-sent-child-porn-lawsuit-documents
Lawyers for Sandy Hook families say Alex Jones sent them child porn
https://www.ctpost.com/local/article/Lawyers-Alex-Jones-sent-child-porn-to-Sandy-Hook-14005437.php
"Alex Jones documents sent to Sandy Hook families contained child porn"
https://www.cnbc.com/2019/06/18/alex-jones-documents-sent-to-sandy-hook-families-contained-child-porn.html
Infowars host Alex Jones accused of threatening Sandy Hook lawyers after child porn is found in his electronic files, court document says
https://uk.finance.yahoo.com/news/infowars-host-alex-jones-accused-231323652.html
Lawyers: Files sent by Alex Jones contained child porn
https://apnews.com/f27b8a34e36640acbc4bb33197d9632b
Alex Jones sent child pornography to sandy hook victims' lawyers, court documents allege
https://www.usatoday.com/story/news/nation/2019/06/17/infowars-alex-jones-sent-child-porn-sandy-hook-lawyers-docs-say/1481412001/
Alex Jones sent lawyers for Sandy Hook families child pornography, filings say
https://www.wsj.com/articles/lawyers-for-sandy-hook-families-say-alex-jones-sent-them-child-pornography-11560809877
Alex Jones's legal team is said to have sent child porn in sandy hook case
https://www.nytimes.com/2019/06/17/nyregion/alex-jones-sandy-hook.html
Child porn found in documents Alex Jones sent sandy hook family
https://www.nbcnews.com/news/us-news/child-porn-found-documents-alex-jones-sent-sandy-hook-family-n1018541
Sandy Hook lawyers said child porn was found from Alex Jones
https://www.wfsb.com/news/sandy-hook-lawyers-said-child-porn-was-found-from-alex/article_c38a1c7e-9172-11e9-83b1-1741af9fa740.html
Alex Jones trial thrown into disarray amid child porn discovery
https://www.huffpost.com/entry/alex-jones-child-porn-lawsuit_n_5d07f8f7e4b095327838a97f
All are basically making it sound like Jones had personally sent child porn to the Sandy Hook families in order to terrorize them, and that once those families contacted their own lawyers, Jones then began threatening those lawyers. Jones' attorney, Norman Pattis, is now issuing letters to the media demanding that media outlets who have published the completely false accusations in their headline to immediately retract the stories and correct the information, according to Infowars.
The degree of coordination in report after report is simply staggering. The depth of depravity in lying about Jones is scary because this is the MSM fully weaponized against one man. They are literally trying to create a hysterical panic about Jones being a pedophile.  However annoying he is, however many other alternative media journalists' careers he has destroyed, however much he shills for Zionism, it's almost incomprehensible to see this level of psychological warfare against a single American citizen with many outlets failing to report his defense by his own lawyers saying his server was infected with unknown malware.
4) The FBI asks for the whole dump of emails, which plaintiffs give them.
5) The FBI reports back it found numerous child pornography images, apparently sent to InfoWars addresses.
6) As far as we can tell, nobody claims Alex Jones solicited or even knew about them.

/2

— Max Kennerly (@MaxKennerly) June 17, 2019
Jones' lawyer refuted that Jones' comments constituted a threat against Mattei and his colleagues, telling the Connecticut Post that Jones "was upset" and "spoke in a compassionate fashion." Pattis previously told the Daily Beast that an outside firm reviewing Jones' and Infowars' online communications found 12 "threatening" emails that included child pornography.
"I spoke to federal prosecutors last week. They report that there is no indication anyone at InfoWars knowingly possessed child pornography," said Pattis, according to the outlet. "The items were embedded in emails sent to folks at InfoWars without ever having been opened."
"There were 9.6 million emails that were searched; we turned over about 57,000 of them. In 12 of them, there were embedded images of child pornography," Pattis elaborated, appearing on Infowars alongside Jones in a segment called the War Room. "As it turns out, those emails were never opened, the images were never opened. There's no evidence that anybody here, or anybody affiliated with you, or you, ever searched them. So clearly they were placed in there as malware."
"I've spoken to federal prosecutors, they regard you as a victim. They do not regard you in any way as a suspect," Pattis added.
While the FBI declined to confirm the existence of an ongoing investigation to the Daily Beast, court documents filed by Mattei on Monday state that "the plaintiffs' Electronically Stored Information consultants began loading files into a document review database in an effort to make them reviewable by counsel as quickly as possible. During that process, the consultants identified an image that appeared to be child pornography."
According to the court filing, the FBI added, "they immediately contacted counsel, who immediately contacted the FBI … the FBI advised counsel that its review located numerous additional illegal images, which had apparently been sent to InfoWars email addresses."
Interestingly enough, this comes after Infowars reported a bombshell exposure on the child pornography network entitled: "Church Leader Charged With Child Rape, Human Trafficking & Child Porn" on June 5th, make of that what you will.
What the mainstream press is further failing to tell its readers is that alternative journalists have been targeted this same way prior including former Infowars contributors Melissa Melton (now Melissa Dykes of Truthstream Media) and Brian D. Hill (an independent journalist whose story of horror being set up on CP, I reported for We Are Change years ago).
Instead, the media is painting Alex Jones a a child predator, a completely libelous claim that at this level could trigger people to kill the man.
Brian D. Hill was an activist, writer, and the founder of USWGO, an alternative political news site. He has also worked with We Are Change North Carolina, writing various alternative media articles under different aliases. Brian was involved in a huge petition to push the nullification of NDAA (National Defense Authorization Act) in the town of Mayodan, NC.
In 2014, due to WikiLeaks who released the Hacking Team emails, we learned that governments worldwide were paying for a Remote Access Trojan (GALILEO) which seemed to have attributed the source code in possibly forging child pornography. It's interesting to note that prior to being charged with possession of child pornography, Brian wrote several stories on various websites about others in the alternative media being set up with child porn, including Melissa Melton, Luke Rudkowski, Dan Johnson and Stewart Rhodes.
Hill called the malware that infected his computer the e-mule virus, noting the malicious code was setting people up to be pedophiles, Federal Jack reported.
Melton, now married to Aaron Dykes, also claimed in a Facebook post that there were attempts to set up Madison Ruppert, Adan Salazar, Alex Jones and other people at Infowars ("including Aaron and I"). The email was sent to us, Infowars, Activist Post, Intellihub, V for 9/11, Dprogram, Stewart Rhodes, Lew Rockwell, Rense, Dan Johnson, Luke Rudkowski, and Truth Action.
The government also notably set up an activist and accused Anonymous collective and WikiLeaks affiliate Matt DeHart on child pornography possession charges. Matt even claimed that ruse was created because he discovered shocking CIA secrets and further alleged he was tortured by federal agents. (This writer will go into Matt DeHart's case at a later time, for now just know that event took place and is well documented.)
Brian Hill is now serving a sentence just like Matt DeHart for child pornography possession. Despite the fact that Hill received threatening emails in 2013 from tormail.org with the statement "Brian is going to be a sex offender, he was set up with child porn, the police would never believe a word he says, and his friends are next."
The emails Hill was sent were provided to this author when working at We Are Change, and Hill also talks about them in a video he made that his family sent to We Are Change below.
In fact, as shown, "Alex Jones" was directly named in those threatening emails as well. Those emails were sent by somebody claiming to be working under the Political Hackers Squad, alluding to being bribed to be pardoned by the Obama Administration for their alleged criminal accusations of child porn if they set up various different political enemies of Obama by being given lists of people to set up.
More specifically, you can read an archived version of their message which was posted on The Hidden Wiki on TOR, Brian Hill wrote.
== We Shall Set Up All Political Activists, Alternative Media, And Libertarian Politicians With Child Porn Starting Soon ==

WE ARE RESPONSIBLE FOR SENDING CHILD PORN TO LUKE RUDKOWSKI'S, DAN JOHNSON'S, STEWART RHODES, AND TONS OF OTHER PATRIOT'S EMAIL ADDRESSES. THIS IS NOT OVER, WE PLAN TO PUT CHILD PORN IN EVERY PATRIOTS EMAIL AND THEN MAKE EVERY PATRIOT A SEX OFFENDER FOR LIFE. WE ALSO PLAN TO SEND CHILD PORN TRICK EMAILS AND EVEN HACKERS TO SEND CHILD PORN TO EVERY PATRIOTS COMPUTER THEN CALL THE FBI WITH LOWER LEVEL MINIONS UNTIL EVERY PATRIOT AND ALTERNATIVE MEDIA OVERLORD IS RAIDED THEN CHARGED WITH CHILD PORN. WE SHALL GET MULTIPLE CONVICTIONSS AND WIN. HAHAHAHAHA!!!!

SIGNED,

POLITIC@L H@CKERZ $QU@D

OBAMA SUPPORTERS

POWERLORD H@CKER$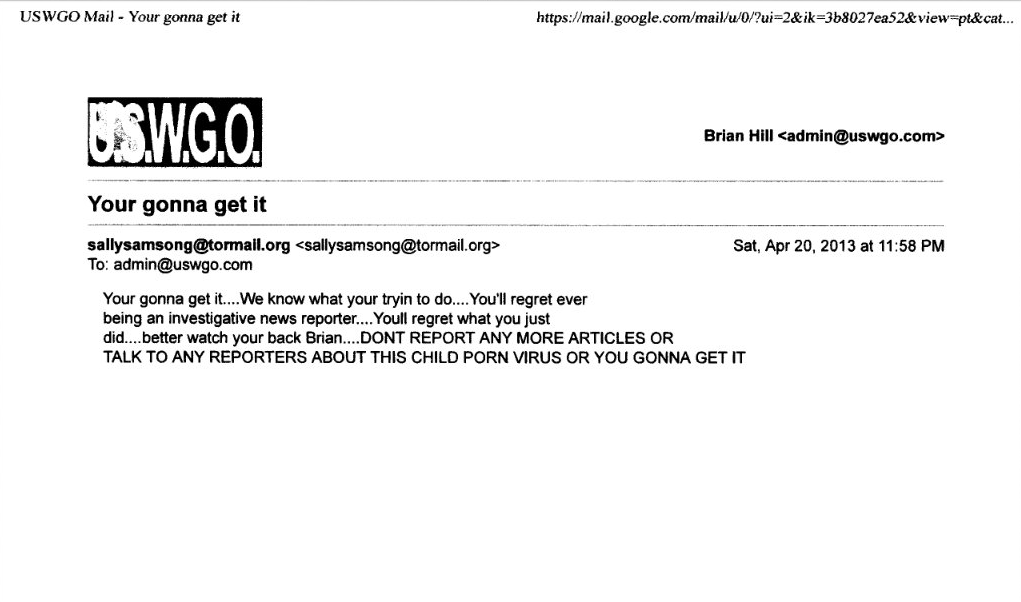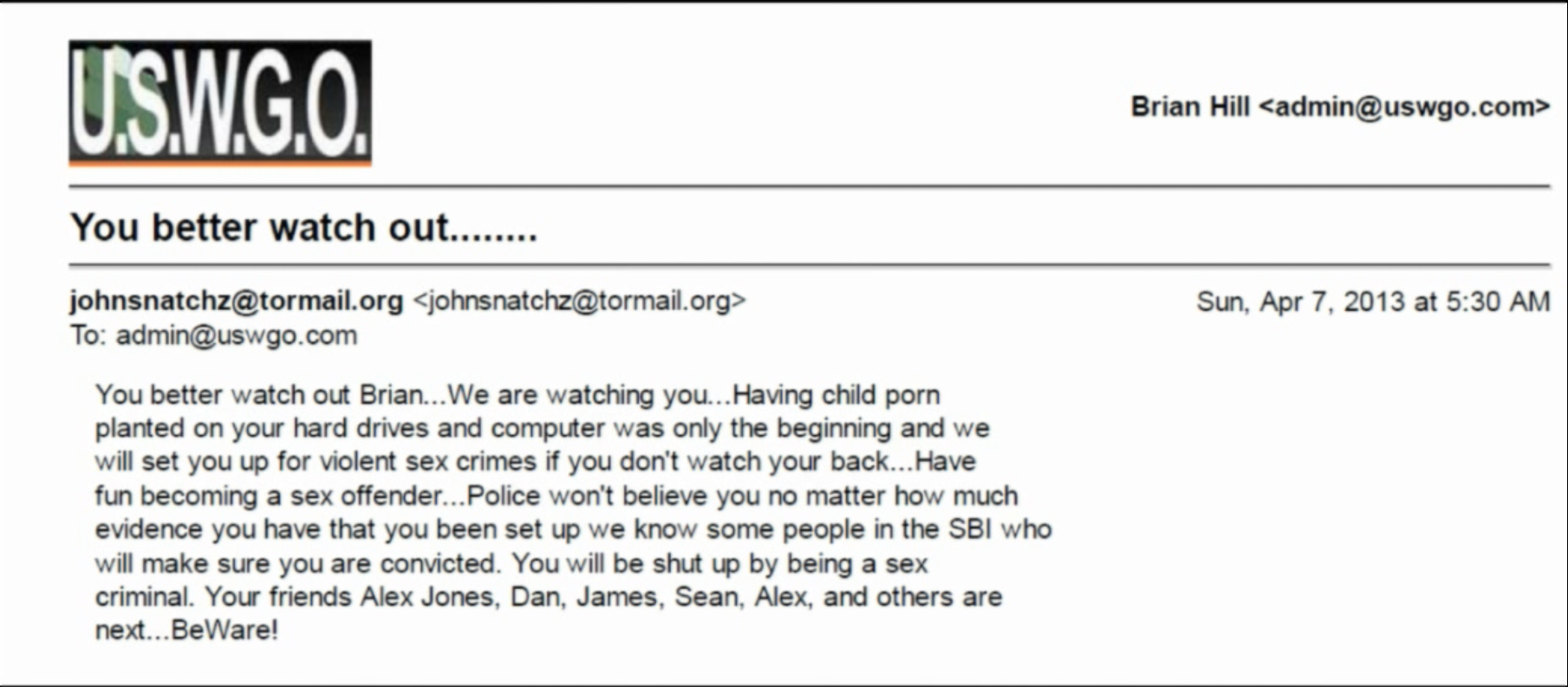 Additional evidence that supports Brian's claim of being set up is the fact that his computer was downloading the images of child pornography while in the custody of the North Carolina State Bureau of Investigations (SBI) in August 2012 and 2013.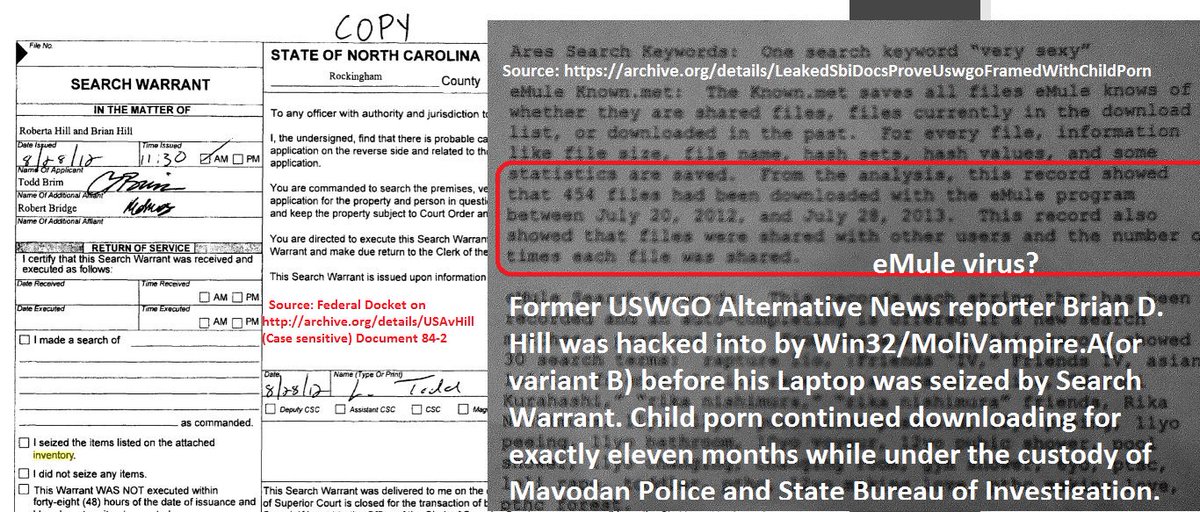 This is evidenced by documents titled "the Joy Strickland emails," in which Joy Strickland tells Agent Rodney White that "Brian might be innocent." The Joy Strickland emails, provided to We Are Change by Brian's family, provide proof that Joy Strickland was provided a prior warning that Brian might be innocent before the DHS arrest. 
For more on Brian Hill's case see the article I wrote for We Are Change, "WRC EXCLUSIVE: Alternative Media Writer Brian D. Hill Setup On Child Pornography Possession."
Child porn has now become a political weapon, a weapon used to destroy anybody as long as you can manufacture criminal intent to have the victims charged with possessing and/or distributing child porn. As my former source and friend the late great former FBI Ted L. Gunderson said, paraphrasing, "the elite use child porn for blackmail and to destroy a person's reputation because it's such a vile sick thing, yet some of them partake in the harming of children, so there is an irony."
Little did Ted know that HackTeams' Galileo software existed; he did say there was software to set up someone on child porn but never named a program in public or in private with this writer.
One has to wonder how many other programs like Galileo exist that are marketed as intelligence agency products to nefariously and maliciously implant child pornography on someone's computer. Software that is used by military industrial complex contractor companies. Clearly, there is something wrong with that picture, no innocent person should ever have child pornography planted on their computer, that's crossing the line.
In the case of Alex Jones, was "POLITIC@L H@CKERZ $QU@D" also behind this latest malware attack on the Infowars host? The question must be proposed given the abundant amount of evidence provided and subsequent imprisoning of Brian Hill.
Melissa Dykes and Brian Hill aren't the only persons to cover child pornography being used against alt-media.  Journalist Benn Swann also once covered the topic, according to an archive.org copy of his work entitled: "Using Child Porn To Take Down The Liberty Movement?"
It's clear that anyone from the alternative media who has made it their mission (as I have) to expose criminality, can be targeted. On that note, the people responsible should also be warned — and that's an Octopus PROMIS on Danny Casolaro and Ian Spiro's graves — an ominous statement sent to those who have eyes to see and those who are watching. This article was just the start if alternative media journalists become targets of sick horrific child pornography defamation campaigns.  I for one will start leaking secrets at a higher frequency.
If you suspect you are a target of child pornography blackmail, contact the FBI immediately to report the incident in order to have the situation on the record. But don't just trust the feds make sure you record the time of the incident and take screenshots of the messages as Brian Hill did document everything, go public, and lastly hand insurance files to your friends in your defense.
Aaron Kesel writes for Activist Post. Support us at Patreon. Follow us on Minds, Steemit, SoMee, BitChute, Facebook and Twitter. Ready for solutions? Subscribe to our premium newsletter Counter Markets.
Subscribe to Activist Post for truth, peace, and freedom news. Follow us on Minds, Twitter, Steemit, and SoMee.
Provide, Protect and Profit from what's coming! Get a free issue of Counter Markets today.