By Tyler Durden
Despite a recent softening in the US housing market, a combination of rising borrowing costs and still-high prices have put prospective first-time homebuyers in a serious bind.
For the first time since records began, first-time homebuyers made up the smallest share of sales last year at 26%. And as we noted on Thursday, a surge in mortgage rates above 7% have sent homebuyer applications to a 28-year low across all age groups.
Now, as the spring homebuying season approaches, tight inventory and uncomfortably high interest rates mean that the American dream can only be achieved by those with high-paying jobs, lots of money, or rich parents, Bloomberg reports.
The average rate for a 30-year, fixed mortgage climbed for a fourth straight week, reaching 6.65%, Freddie Mac data released Thursday show.

The difficulties for first-time buyers have been escalating for years. During the pandemic boom, they were frequently squeezed out as they competed against people with cash and investors who frequently target starter homes. The typical household income for first-time buyers soared to as much as $90,000 in 2022 from about $70,000 in 2019. -Bloomberg
"We're far from affordability for the masses," according to Zillow senior economist, Nicole Bachaud. "The scales are shifted toward homebuyers with higher incomes and a better financial background. This will be the norm until we get more inventory in the market."
When mortgage rates hit 7% towards the end of 2022, Zillow predicted that it would take around 10 years for an individual saving 5% of the median household every month to set aside enough for a 10% down payment on a typical home (and are banks even taking 10% down?). What's more, supply of entry-level housing remains tight, with the inventory of America's cheapest properties down 1.5% in January vs. the same time last year, while supply for the most-expensive properties jumped 37%.
Also submitted for your consideration – 99% of outstanding mortgages have interest rates below the Primary Mortgage Market Survey. People bought and refinanced when rates were low, while new applications have essentially crashed as illustrated above.
Lowered expectations
Bloomberg highlights the plight of Rob and Kelsey Scott, a Seattle couple who have a combined income of $200,000, and were able to save $70,000 toward a down payment on a house. After the surge in mortgage rates, the Scotts had to lower their budget from $800,000. They ended up buying a two-bedroom house in a 'quaint' neighborhood for $700,000.
"If we compared ourselves to our parents who bought in their late 20s, we felt like we were behind. But if we look around today, we're on track," said 35-year-old Rob. "Where we were workwise as a couple is the only reason we're in a house."
Meanwhile, the median age of first-time buyers has jumped from 29 in 1981 to 36 in 2022, the oldest in the National Association of Realtors' records – and is due to the fact that home prices have far outpaced wages, according to Zillow chief economist Skylar Olsen.
Rich kids win again
Even before the pandemic, around 1/3 of first-time homebuyers tapped rich parents or family members for a gift or loan to cover at least part of their down payment, Zillow's Olson says. That increased to around 40% in 2021, while the percentage of young adult buyers with a co-borrower over the age of 55 has spiked since 2021, Freddic Mac reported.
"I don't know how anyone could afford a home on their own at my age," said Maddie Duleyrie, 29, who was only able to buy a condo in New York City thanks to help from her parents, despite being "fortunate to have a well-paying job."
Kimberly Jay, the Duleyrie family's real estate broker, said "I see some parents giving gifts for the full price of a million-dollar property."
"This is a city with wealthy people."
Even in Dallas, Texas, at least half of young first-time homebuyers are getting help from their families, according to real estate agent Connie Segovia, who says that most are receiving the entire minimum down payment from such sources.
Others simply have to make due with less.
Ashley Shipp-McGhee didn't just want to buy her first house — she urgently needed more space after adopting her late aunt's two children. The 39-year-old nurse started her search in December 2021 in the Illinois suburbs north of St. Louis, with a $260,000 budget.

Nearly one year and 30 houses viewed later, she finally landed a place for $256,000, a higher price than she had hoped.

She used an escalation clause to pay $1,000 over competing offers, waived the inspection and paid all the closing costs. She felt "uncomfortable" with her monthly mortgage payments after she was preapproved for 2.9% at the beginning of her hunt, only to close on the home at 6.4%. But she's holding on to hope that she can refinance down the line if rates go down. -Bloomberg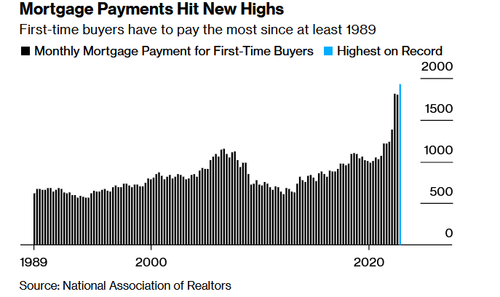 Thanks to higher interest rates, a buyer purchasing a $400,000 home with 20% down on a 30-year fixed loan, the monthly payment, including principal and interest, is now roughly $230 a month more than it would have been a month ago. Compared with a year ago, when rates were in the 4% range, today's monthly payment is about 50% higher, according to CNBC's Diana Olick.
Good luck out there…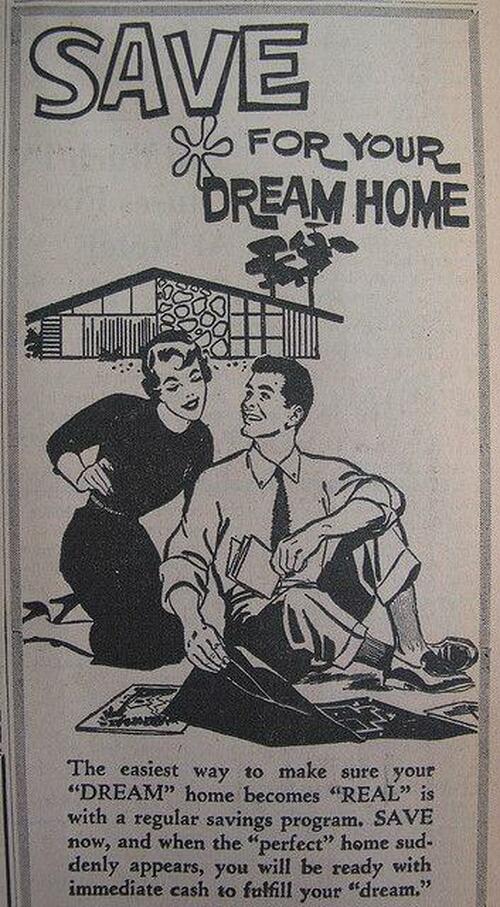 Source: ZeroHedge
Become a Patron!
Or support us at SubscribeStar
Donate cryptocurrency HERE
Subscribe to Activist Post for truth, peace, and freedom news. Follow us on SoMee, Telegram, HIVE, Flote, Minds, MeWe, Twitter, Gab, What Really Happened and GETTR.

Provide, Protect and Profit from what's coming! Get a free issue of Counter Markets today.