By Tyler Durden
As consumer-goods inflation has continued to surprise economists and shoppers alike with its ferocity, increasingly costly mortgages are putting first-time home buyers at a worsening disadvantage, and placing the 'American Dream' of owning one's home even further out of reach.
Bidding has already driven home prices to unprecedented highs, but growing demand for loans has sent mortgage rates to levels unseen in years. The cost for a 30-year loan has just hit a two-year high, having risen 20% since Christmas, Bloomberg reports.
While those who already own homes have the advantage of benefiting from rising prices in their previous home, allowing them to more easily trade up, first-time buyers must make do with rising prices and rising mortgage rates.
Costs for 30-year loans hit a more than two-year high of 3.69% last week, rising about 20% just since Christmas. Further increases are expected as the Federal Reserve, trying to curb inflation, hikes its benchmark rate. That's a daunting prospect for entry-level buyers when affordability is already at its worst since 2018.
And as we reported earlier this month, first-time buyers are already seeing their finances stretched thin as those who have managed to buy have seen the percentage of their incomes spent on mortgage payments jump to about 25.6%, according to the NAR. That's the highest in three years.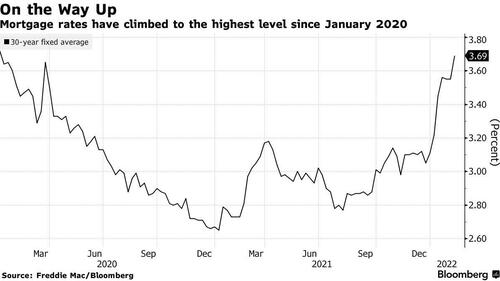 As Mark Zandi, chief economist for Moody's Analytics and a widely quoted voice on Wall Street, put it: "Housing affordability is set to get crushed."
"Housing affordability is set to get crushed," said Mark Zandi, chief economist for Moody's Analytics, who expects 30-year rates to climb above 4% this year.

"Many potential first-time homebuyers will get locked out of homeownership, at least until house prices come back to earth or mortgage rates turn back down," he said. "Neither seems likely, at least not soon, and certainly not in time for the critical spring homebuying season."
Anecdotes about the housing market quoted by Bloomberg, WSJ and the rest of the financial press continue to depict a market where homes are snapped up within days or even hours with offers far above the asking price. As one New Jersey woman told Bloomberg: "I'm screwed…I'll be renting for the rest of my life."
Cassie Homan, a single Philadelphia renter in her 40s, scours listings websites every day, searching for a modest place in the New Jersey suburbs to be closer to family. She's on a month-to-month lease to stay flexible. But in her budget of under $200,000, homes go fast unless there's something seriously wrong.

She recently inquired about a remodeled two-bedroom house built in 1855 with an asking price of $140,000. But it was gone before she could see it, attracting three cash offers within two days. She considered another house only to discover that the seller was passing off the attic as a bedroom. A third property — listed without any photos — was off-limits to tours because a tenant was living there.

Homan said she hopes rising rates cause a downturn in prices, opening up more inventory. Short of that, "I'm screwed — I have no chance in hell," she said. "I'll have to rent for the rest of my life."
Rising mortgage rates are also a problem because they make sellers less willing to part with their current lower-rate mortgages.
While the current state of the housing market heading into the spring – typically the hottest season for sales – is less than ideal for families and single people looking for a home, corporate landlords and larger investors have an advantage.
Sherry Bailey, an agent in Atlanta, said her buyers are constantly losing out to big landlords paying cash.

Bailey is working with a young woman with a government job and a budget of under $200,000 who has been forced to look in North Georgia mountain towns, an hour and a half outside Atlanta. Still, in the time it takes the client to discuss possibilities with her mom, competitors swoop down, Bailey said.

"The spring market hasn't even started," she said, "and buyers are already discouraged."
Keep in mind, Atlanta has seen one of the largest increases in the share of homes bought by investors.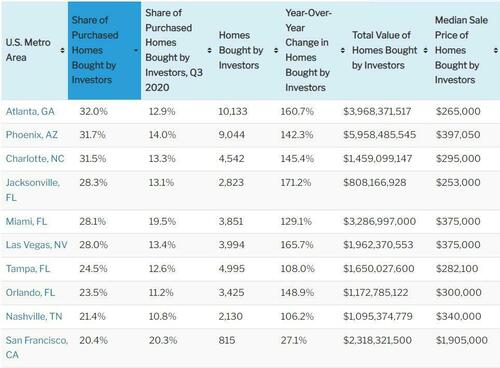 Of course, home buyers aren't the only ones being squeezed by rising costs: renters are also feeling the pressure: new data from CoreLogic show that rental prices rents for single-family homes soared to an all-time high at the end of 2021. Like Bloomberg said, renting a home is even costlier than buying one.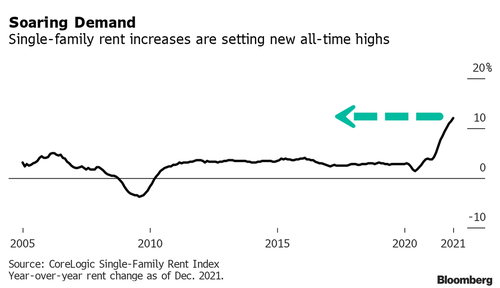 No matter which corner of the market one looks in, it seems there is no respite from rising housing costs.
Source: ZeroHedge
Top image: Pixabay
Become a Patron!
Or support us at SubscribeStar
Donate cryptocurrency HERE
Subscribe to Activist Post for truth, peace, and freedom news. Follow us on SoMee, Telegram, HIVE, Flote, Minds, MeWe, Twitter, Gab, What Really Happened and GETTR.

Provide, Protect and Profit from what's coming! Get a free issue of Counter Markets today.