By Tyler Durden
There's no doubt the Caribbean island of St Vincent is experiencing a humanitarian crisis as chronic food and water shortages develop amid ongoing volcanic eruptions at the northern part of the island. Volcanic ash blankets the island and has heavily impacted its agricultural economy.
According to Bloomberg, St. Vincent and the Grenadines could experience a halving of gross domestic product due to the near-continuous showering of ash across the island since April 9.
"The damage on the north of the island is bordering on apocalyptic," Finance Minister Camillo Gonsalves told Bloomberg in a telephone interview. "The country is not recognizable as a Caribbean island in the north of the country."
Before And After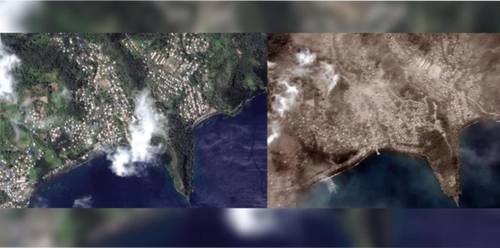 Before And After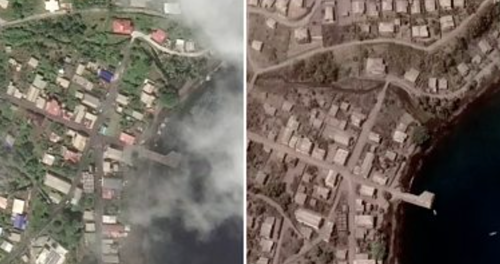 La Soufriere volcano, located in the northern part of the island, has erupted numerous times in the last couple of weeks. At least 20,000 people have been displaced, or about 19% of the island's population. Much of the economic devastation is situated in the country's farm belt where agriculture represents about 15% of the economy and is the largest employer.
The Eastern Caribbean island is one of the world's top producers of arrowroot and other exotic fruits, vegetables and root crops. Bananas are another huge crop for the country.
Such reliance on an agriculture economy is proving to be disastrous following La Soufriere's volcanic eruption.
More than 100 million cubic meters of ash spewed from a volcano on the Caribbean island of St. Vincent recently. The darkened western coastline in a @USGSLandsat image captured Sunday offers a sense of the ash's extent.
Find imagery at https://t.co/86O1czz4SR pic.twitter.com/qViPUv4ZbQ

— Earth Resources Observation and Science Center (@USGS_EROS) April 26, 2021
Preliminary estimates show the farmland near the volcano wiped out 100% of the vegetable crop, 90% of tree crops — like mangoes – and 80% of root crops.
"This means, essentially, that agriculture has been wiped out on the island," Gonsalves said.
New United Nations video shows villages covered in ash amid ongoing volcanic eruptions on the Caribbean island of St. Vincent, with the UN reporting more than 12,700 people have been evacuated from their homes. https://t.co/SW3RZVXHNC pic.twitter.com/52k11kA9Jg

— ABC News (@ABC) April 21, 2021
Tourism has also become an integral part of the island's economy. Even before the violent eruptions, tourism and travel were down due to the virus pandemic.
Scientists don't know when the dangerously active volcano will stop erupting. In 1979, La Soufriere erupted for four months. In 1902, the eruption last about one year.
"The true economic toll of La Soufriere remains unclear, but Gonsalves estimates the volcano caused $150 million in infrastructure damage and $150 million in agriculture and housing losses. In addition, it will require $20 million to $30 million to clean up the islands and about $15 million per month to feed and house evacuees," Bloomberg said. 
"The longer people have to stay in shelters and the longer it takes for the volcano to stop erupting, the more precarious our financial situation will be," he said.
St Vincent has the third-highest debt-to-GDP at 81% among any other Caribbean nation and faces at least a halving of its economy this year.
"Undoubtedly, our debt is going to increase as we try to rebuild and recover from this disaster," Gonsalves said. "We need our friends to stand by us at this time."
Source: Zero Hedge
Become a Patron!
Or support us at SubscribeStar
Donate cryptocurrency HERE
Subscribe to Activist Post for truth, peace, and freedom news. Follow us on Telegram, SoMee, HIVE, Flote, Minds, MeWe, Twitter, Gab, Ruqqus and What Really Happened.

Provide, Protect and Profit from what's coming! Get a free issue of Counter Markets today.