By Tyler Durden
Well, it's becoming evident in Baltimore, Maryland, that teaching remotely in the pandemic is not sustainable as hackers have hit Baltimore County Public Schools (BCPS) with a ransomware attack, forcing the school system to close schools for Monday and Tuesday, reported CBS Baltimore.
"Due to the recent ransomware attack, Baltimore County Public Schools will be closed for students on Monday, November 30, and Tuesday, December 1. BCPS offices will be open and staff will receive additional information about Monday and Tuesday," BCPS tweeted.
In another post, BCPS said, "this provides much-needed time for our staff to continue working on setting up the instructional platform and to communicate next steps regarding devices. On Mon. and Wed., free student meals will be available at 300+ locations as usual, including all middle and high schools."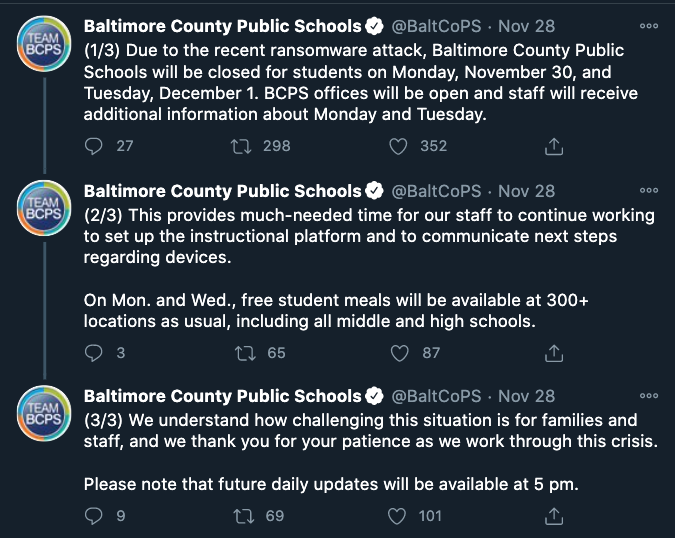 The school system ended the statement by saying, "We understand how challenging this situation is for families and staff, and we thank you for your patience as we work through this crisis. Please note that future daily updates will be available at 5 pm."
On Friday, the 11 News I-Team reported that Maryland state auditors found significant risks within the BCPS network.
Days before the ransomware attack was discovered, early last week, findings from the Office of Legislative Audits showed BCPS did not properly secure sensitive personal information.
At the moment, there's still no source behind the ransomware attack or how much money hackers want to restore computer network systems.
Last month, the public school system in Yazoo County, Mississippi, revealed that it paid upwards of $300k to help recover its network that was overrun by a ransomware incident.
There have been major US hospital systems hit with "paralyzing" ransomware attacks this fall.
So the real consequence of a school system going offline because of a ransomware attack is that children may not be able to learn for as long as the systems are down – as seen in Baltimore this week.
Source: Zero Hedge
Subscribe to Activist Post for truth, peace, and freedom news. Send resources to the front lines of peace and freedom HERE! Follow us on SoMee, HIVE, Parler, Flote, Minds, MeWe and Twitter.
Provide, Protect and Profit from what's coming! Get a free issue of Counter Markets today.