By Tyler Durden
If readers on the U.S. East Coast have stepped outside today, whoa! The heat is unbearable, especially in New York City.
At the moment, 70 million Americans from Maine to South Carolina are roasting in a massive heat dome, reported Accuweather. The result of the heatwave has been a significant spike in energy demand from residential and commercial structures.
AccuWeather shows temperatures across the Northeast, Mid-Atlantic, Southeast, and Rust Belt are registering between 90F and 100F.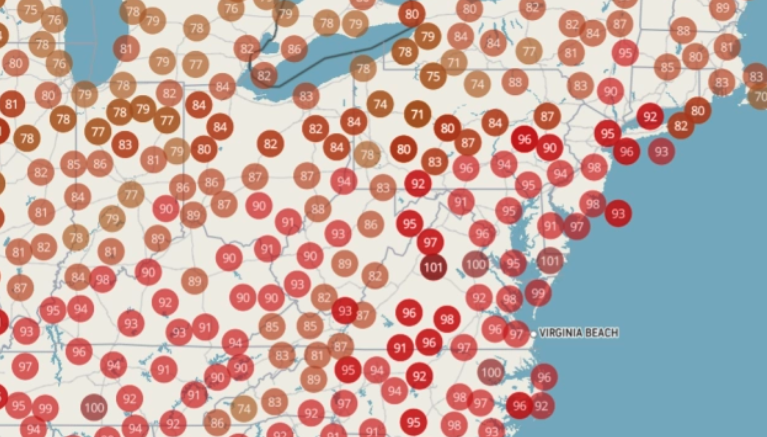 New York's Central Park hit 92F in the early afternoon hours Monday and could rise to the mid/high 90s by late afternoon. The heat index in New Jersey could soon hit 110F and be around 108F in Washington, D.C.
Bloomberg reports the heat dome has pressured energy grids in the Northeast, resulting in a massive surge in energy demand. Shown below, New York City electricity demand surged to the highest level in seven years on Monday.
Matt Rogers, president of the Commodity Weather Group LLC., said eastern parts of PJM Interconnection LLC. (from Chicago to Washington) are expected to see spiking energy demand as residential and commercial structures turn thermostats lower to stay cool on Monday.
Jim Rouiller, the lead meteorologist at the Energy Weather Group LLC., said population-weighted cooling degree days, the measurement of energy demand that it takes to cool a structure, could register the highest energy demand for July since the 1950s.
Meteorologist Brian Hurley at the National Weather Service's Weather Prediction Center said record-high temperatures for the date on Sunday were recorded in eight cities, including Washington at Dulles International Airport; Richmond, Virginia; Manchester, New Hampshire; and Plattsburgh, New York.
Hurley said Norfolk, Virginia, hit 101F on Sunday, which is an anomaly considering the metro area is situated on the ocean.
Rouiller said above-normal temperatures are expected to continue in the Northeast through the first week of August.
"The risk is there for renewed heatwave episodes continuing well into August," he said.
Rouiller warned this summer could be one of the hottest in two decades.
Source: Zerohedge
Subscribe to Activist Post for truth, peace, and freedom news. Send resources to the front lines of peace and freedom HERE! Follow us on SoMee, HIVE, Parler, Flote, Minds, and Twitter.
Provide, Protect and Profit from what's coming! Get a free issue of Counter Markets today.