By Tyler Durden
Following today's release of the latest Personal Income and Spending data, Wall Street was predictably focused on the changes in these two key series, which showed a modest slowdown in personal spending (to be expected one month after the savings rate in the US hit a record), coupled with a modest decline in personal income (as government benefits and stimulus checks slowed substantially).
But while the change in the headline data was indeed notable, what was far more remarkable was less followed data showing just how reliant on the US government the population has become.
We are referring, of course, to Personal Current Transfer payments which are essentially government sourced income such as unemployment benefits, welfare checks, and so on. In May, this number was $4.9 trillion annualized, and while it is down from the record $6.6 trillion hit in April when the US government activated the money helicopters to avoid a total collapse of the US economy, it was nearly $2 trillion above the pre-Covid trend where transfer receipts were approximately $3.2 trillion.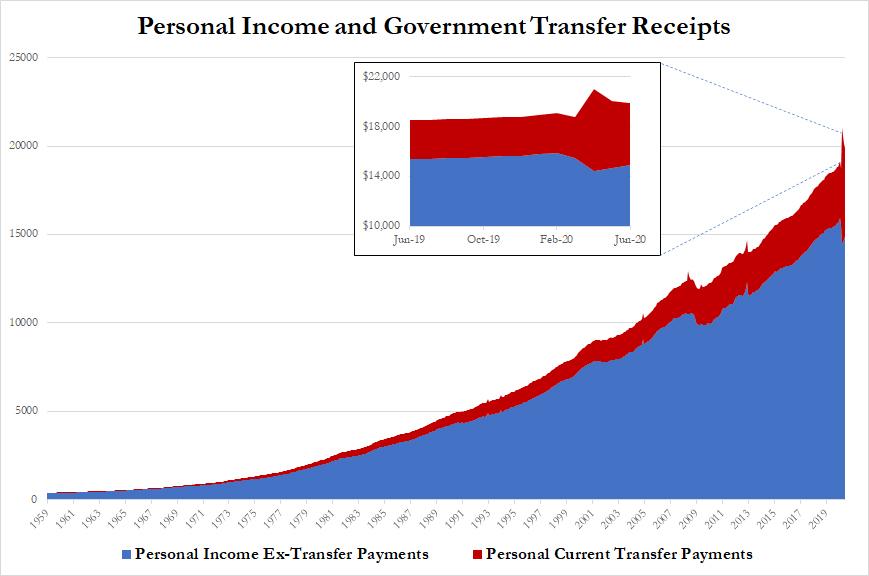 Even more striking, is that as of June when total Personal Income was just below $20 trillion annualized, the government remains responsible for over a quarter of all income.
Putting that number in perspective, in the 1950s and 1960s, transfer payment were around 7%. This number rose in the low teens starting in the mid-1970s (right after the Nixon Shock ended Bretton-Woods and closed the gold window). The number then jumped again after the financial crisis, spiking to the high teens.
And now, the coronavirus has officially sent this number into the mid-20% range, after hitting a record high 31% in April.
And that's how creeping banana republic socialism comes at you: first slowly, then fast.
Source: Zerohedge
Subscribe to Activist Post for truth, peace, and freedom news. Send resources to the front lines of peace and freedom HERE! Follow us on SoMee, HIVE, Parler, Flote, Minds, and Twitter.
Provide, Protect and Profit from what's coming! Get a free issue of Counter Markets today.