By Aaron Kesel
Iran has unleashed a barrage of missile fire on military base Al-Asad and Erbil international airport in Iraq, leading many to speculate there is a greater response to come; and if the events in the past few days wasn't a sign of war, this certainly is. Amid the attack, there was also a report of a civilian airliner crashing in Tehran that was heading to Kiev, showing what's to come as innocents die as a casualty of war. And earthquakes hit near a nuclear plant in Iran, raising suspicions about the timing.
Al-Asad air base in Anbar province — an Iraqi military center in western Iraq — was hit by missiles, while another hit a base in Erbil in the northern part of the country. Four other missiles failed, according to a U.S. military spokesman for Central Command who spoke to Fox News.
An Iranian leader who was top nuclear negotiator for Iran, Saeed Jalili, tweeted a picture of his country's flag showing patriotism for his country after the airstrike on Asad Iraqi base housing U.S. troops. The strike was in retaliation for the killing of Iranian Quds Force general Qassem Soleimani.
— Saeed Jalili (@DrSaeedJalili) January 7, 2020
President Donald Trump also posted a photo of a flag, the U.S's own symbol of patriotism after the death of the Iranian general.
— Donald J. Trump (@realDonaldTrump) January 3, 2020
Iranian state TV stated in a press release that the surface-to-air missile attacks on the Iraqi base were in retaliation for the killing of Soleimani, "whose funeral procession Tuesday in his hometown of Kerman prompted angry calls to avenge his death," according to the Associated Press. Iran has also made threats against U.S. President Donald Trump by offering an $80 million dollar bounty for his head, in addition to threatening to attack the White House in DC itself.
Meanwhile, there are reports that a civilian 737 Boeing jet airliner bound for Ukraine has crashed in Tehran killing 176 passengers allegedly after an Iranian missile system accidentally shot it down according to Al-Hadath News. Although, Iran disputed this stating it was an "engine failure." However, Iran has said that it won't give up the black boxes for the jet, leading many to believe Al-Hadath's report is accurate.
Two 4.7-4.9 magnitude earthquakes also struck in southern Iran, coincidentally near the controversial Bushehr nuclear power plant.
BREAKING UPDATE: Al Hadath News agency from Jordan reports the plane may have been shot down accidentally by an Iranian missile. This is still unconfirmed.

— Breaking911 (@Breaking911) January 8, 2020
Another earthquake, measuring 5.1 magnitude, struck the same region less than two weeks ago, CNN
reported.
ALL ABOARD FLIGHT ARE DEAD: Ukrainian President Volodymyr Zelensky says "According to preliminary data, all passengers and crew members are dead". This includes 167 passengers and 9 crew aboard the Boeing 737. pic.twitter.com/jVMwztWAuh

— Breaking911 (@Breaking911) January 8, 2020
It's important to note for readers that when conflict was happening with North Korea, Pyongyang was also hit with an earthquake at its nuclear power plant. That event took place after former U.S. Defense Secretary Jim Mattis hinted at using a kinetic weapon at a press conference while discussing tensions with North Korea when he made the Freudian slip in 2017, Activist Post reported.
📹 | #Ukrainian passenger plane crashed shortly after takeoff from #Iran

▪️Al-Hadath report that the plane was accidentally shot by #Iranian air defence systemspic.twitter.com/qSs6Y7HWzT

— EHA News (@eha_news) January 8, 2020
Specifically, many believe Mattis was referencing the legendary Rods From God or another directed energy-based weapon system.
Business Insider wrote about the rods in September of 2017; this writer suspects either those weapons or others were used in a covert military operation to destroy a North Korean nuclear test site which collapsed and killed over 200 people on October 31st right before Trump's trip to South Korea. It also could have been an EMP:
In 2015, the U.S. Air Force confirmed that military contractor Boeing has an electromagnetic pulse weapon, which is capable of targeting and destroying electrical systems without the collateral damage of killing people. It's essentially an EMP that takes out the power grid of a given area.
The project is known as the "CHAMP," or Counter-electronics High-powered Microwave Advanced Missile Project, and it already has been operational since 2015, according to Air Force Research Laboratory commander Major General Tom Masiello.;
But truthfully Activist Post has no idea what type of weapon caused it. We can just speculate with grand evidence that both earthquakes on Iran and North Korea happened around key times, suggesting some type of weapon was used.
It's now highly suspect that two countries' nuclear sites were struck by earthquakes while there were tensions with the United States. The recent swarm of earthquakes in Iran is even more coincidental, though, given that the top nuclear negotiator for Iran, Saeed Jalili (above), tweeted a picture of an Iranian flag. The target that was hit according to news reports is a controversial site just like North Korea's infrastructure that was hit years ago with an earthquake.
In other words, this seems to be a silent covert message by the U.S. being sent to Iran after an attack on two U.S. military bases Al-Asad and Erbil. There were also further attacks taking place on other military installations throughout the Middle East like in Libya and Kenya over the past week as well.
Happening Now Iran: Two Earthquake registered #Sismos . The first of magnitude 4.9 to 10 kilometers SE of #Borazjan at a depth of 10 kilometers. The second of magnitude 4.5 to 17 kilometers SSE of #Borazjan at a depth of 10 km. #Terremoto #earthquake #Iran

🚨Retweet🚨 pic.twitter.com/WN7iHhmCNw

— Terrence Daniels (Captain Planet) (@Terrence_STR) January 8, 2020
In fact, these weapons may have already been used in the Middle East and potentially even against Iran.
A video from May-June 2017, shows the downing of a Syrian Arab Air Force Su-22 ground-attack aircraft and an armed Shaheed-129 UAV, operated by either Iran or Hezbollah according to LiveLeak. The projectile left a massively long heat trail in forward-looking infrared white hot (FLIR) that dissipated instantly, unlike traditional missiles that have a short line then dissipate. However, that attack was reported by Sputnik stating that U.S. fighter jets were responsible.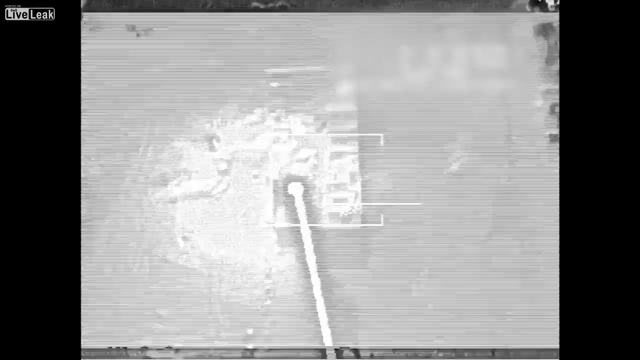 The National Enquirer, reported in 2017 that space-based weapons were going to be used against North Korea writing: "President Donald Trump will unleash hell on North Korea with a top-secret doomsday weapon nicknamed 'Rods from God' — that's the military match of the meteor that wiped out the dinosaurs!" National Enquirer's founder David J. Pecker and Trump are very close, and he was even involved in helping pay hush money.
U.S. general David Goldfein has also previously suggested Trump could use "space based weapons against ISIS." So if those weapons would be used against ISIS, what makes anyone think they wouldn't be used against America's other enemies Iran and North Korea?
"If we want to be more agile then the reality is we are going to have to push decision authority down to some lower levels in certain areas the big question that we've got to wrestle with … is the authorities to operate in cyber and space," General David Goldfein, Air Force chief of staff, told USA TODAY.
The predecessor Bush administration even considered hitting underground nuclear sites in rogue nations in the years after 9/11.
The concept of developing kinetic energy weapons has been around since the 1950s when the RAND Corporation proposed placing rods on tips of ICBMs, although the Pentagon won't say how far along the research is, or even confirm that any efforts exist, citing those details as classified. The "U.S. Air Force Transformation Flight Plan," published by the Air Force in November 2003, references "hypervelocity rod bundles" in its outline of future space-based weapons; and, in 2002, another report from RAND, "Space Weapons, Earth Wars," talks about the effectiveness of such a weapon.
Trump responded to the attack on the military bases in Iraq tweeting the following last night with an odd demeanor stating "All is well." For this writer it seems obvious that the Rods From God were just used on Iran.
All is well! Missiles launched from Iran at two military bases located in Iraq. Assessment of casualties & damages taking place now. So far, so good! We have the most powerful and well equipped military anywhere in the world, by far! I will be making a statement tomorrow morning.

— Donald J. Trump (@realDonaldTrump) January 8, 2020
Trump is expected to address the nation this morning where he will be making a statement on the recent attack. So far there have been no reported causalities as a result of the missile fire to this writer's knowledge at the time of publication. However, this may change in the coming hours and the article will be updated as more information becomes available.
Trump has previously threatened Iran, threatening 52 different targets in Iran, including civilian and military sites if any American is harmed by Tehran, "very fast and very hard."
The attack on a U.S. Iraqi base follows days of tension between the two countries which have resulted in several attacks in the Middle East after Trump ordered the assassination of Soleimani and Iraqi militia leader Abu Mahdi al Muhandis in Baghdad last week, as Activist Post previously reported.
Iran has responded stating that if there is no retaliation from America for these latest attacks then they will stop attacking. But if America attacks then their response will be crushing and wide spread, according to Alia Rouzi NBC News Tehran Bureau Chief and correspondent. Will Iran see the recent earthquake of its nuclear power plant as an "attack" or just a coincidence?
Iran's Supreme Leader, Ayatollah Ali Khamenei stated the U.S. should leave Iraq, adding, "Military action like this is not sufficient. What is important is ending the corrupting presence of America in the region," Reuters reported. On Sunday, Iraqi Parliament voted to expel U.S. troops from the region. Trump responded threatening Iraq with sanctions and demanding they pay for the military bases the U.S. has established.
Thousands upon thousands of anti-war activists took to the streets across the U.S. over the weekend to express distaste for another war. So far a MoveOn.org letter to the U.S. Congress to end this dangerous escalation has received close to 100,000 signatures. You can sign the petition here and demand Congress intervenes in Trump's war efforts.
UPDATE: 12:00 p.m. EST – 1/8/20 — Trump has confirmed that "No Americans were harmed in last night's attack by the Iranian regime," in his speech this morning. Trump added, Iran "appears to be standing down," according to a report by Fox News.
.@realDonaldTrump : We must all work together toward making a deal with Iran that makes the world a safer and more peaceful place. pic.twitter.com/siJ4lhbljR

— Wojciech Pawelczyk 🇵🇱🇺🇸 (@PolishPatriotTM) January 8, 2020
There were also new sanctions introduced against Iran. However, Trump still insists that the U.S. wants "peace."
There was an advanced warning given to Iraq, Finland and Lithuania – which all had troops stationed at the bases which were targeted, Dailymail reported.
China and Russia, both key Iranian allies warned against escalating strikes with Vladimir Dzhabarov, a lawmaker with Russia's upper house of parliament, warning the conflict could easily lead to a nuclear war.
UPDATE: 12:00 a.m. EST – 1/9/20 — Yesterday further rocket attacks took place in the Green Zone in Baghdad near the American embassy in Iraq. No details were readily available on who was responsible but there are several groups in the region who could be the culprits, not just Iran as noted in a previous report.
#BREAKING: Two rockets hit Iraqi capital's Green Zone: security sources – via @AFP

— Maya Gebeily (@GebeilyM) January 8, 2020
#BREAKING
Raketten afgevuurd op Green Zone in #Baghdad. Sirenes klinken rondom het gebied waar ook de Amerikaanse Ambassade staat.#Iran #IranvsUSA #IranAttacks #IranVSAmerica #iran pic.twitter.com/oVaYYXGu4D

— Terrorisme Nieuws (@TerreurNieuwsNL) January 8, 2020
This story is a live active developing story, this author will try to keep this article up to date with accurate information as much as humanly possible.
---
Aaron Kesel writes for Activist Post. Support us at Patreon. Follow us on Minds, Steemit, SoMee, BitChute, Facebook and Twitter.

Image credit: Anthony Freda Art "11th Hour"
Subscribe to Activist Post for truth, peace, and freedom news. Become an Activist Post Patron for as little as $1 per month at Patreon. Follow us on SoMee, Flote, Minds, Twitter, and Steemit.
Provide, Protect and Profit from what's coming! Get a free issue of Counter Markets today.