By Aaron Kesel
U.S. President Donald Trump has assassinated General Qassem Soleimani, the head of Iran's elite Quds Force, causing speculation that these actions may ultimately lead to World War Three to bring in the New Year with a "bang." In response, CodePink, an activism organization that stands against war, has responded calling for anti-war rallies across the U.S. that show citizens do not consent to conflict with Iran.
There is no flag large enough to cover the shame of starting a war with Iran, leasing to more deaths in the middle East. Which side are you on Peace or illegal, immoral bombings & war? Join us in the streets across the US on 1/4 #PeaceWithIran https://t.co/oHmMJSN8Rx https://t.co/PiaslDIK3c

— CODEPINK (@codepink) January 3, 2020
Currently, social media is flooded with the hashtags #WorldWar3, #WWIII, and #WorldWarThree, while the puppet press no matter where you look is pushing for war with Iran. Others have chosen to push the hashtag #NoWarWithIran. However, many people fear that this move is the equivalent to the murder of Archduke Franz Ferdinand which was one of many catalysts that lead the world into World War I.
The Pentagon has admitted publicly that Trump himself ordered the drone strike that killed General Qassem Soleimani, after accusing Iran of being behind violent protests outside of the U.S. embassy in Baghdad and a missile attack on a base over the holiday in December which killed a U.S. civilian contractor and injured another. That attack has been disputed by many including The Last American Vagabond who reported the incident in great detail on YouTube, noting its suspicious timing due to the holiday. Another interesting fact to note is that the attack also occurred when Iran, Russia and China were running joint naval drills.
The protests of the embassy saw rocks being thrown, smashed windows, walls graffiti-ed, and fires set to the reception center and a security kiosk. Protests were in retaliation for another missile strike that killed 25 fighters from an alleged Iran-backed Shiite militia in Iraq, CBS reported. Although, there was no report of injuries or deaths at the Baghdad embassy that this writer could find.
Iran has responded to Trump's assassination with Iran's Supreme Leader Ayatollah Ali Khamenei declaring on Twitter three days of public mourning for the deaths of the general and Abu Mahdi al-Muhandis whom was with Soleimani in the car. Khamenei also vowed a "harsh retaliation is waiting" for the U.S, The Guardian reported. The Iranian leader has further tweeting about Jihad, (holy war) in the last few hours.
Iran's current president, Hassan Rouhani, also vowed revenge on Twitter:
The flag of General Soleimani in defense of the country's territorial integrity and the fight against terrorism and extremism in the region will be raised, and the path of resistance to US excesses will continue. The great nation of Iran will take revenge for this heinous crime.

— Hassan Rouhani (@HassanRouhani) January 3, 2020
The U.S. Defense Department said it killed Soleimani because he "was actively developing plans to attack American diplomats and service members in Iraq and throughout the region."
It seems that the PNAC (Project For A New American Century) plan, also known as the five years seven countries invasion plot that included Iran, which 4 star General Wesley Clark warned about is finally coming true in 2020. In 2007, Clark revealed that high top brass at the Pentagon in 2001 mere weeks after 911, planned to invade seven countries within five years with the last remaining country being, you guessed it Iran!
Those countries included — Iraq, Syria, Lebanon, Libya, Somalia, Sudan and Iran.
Libya dropped the U.S. dollar and invasion followed shortly after as comedian and activist Lee Camp has previously noted numerous times in segments on his show on RT titled: "Redacted Tonight." Camp has also noticed "it's all about the banking." To make a comparison, Muammar Gaddafi and his speech at the UN to replace the USD in African nations with a gold African dinar.
Just like Libya, Iraq attempted to move away from the U.S. dollar to the Euro for trade — the result was the invasion of the Middle East. Iraq's Saddam Hussein announced Iraq would no longer sell Iraqi oil in dollars. According to The New American,
Iraqi despot Saddam Hussein, once armed by the U.S. government to make war on Iran, was threatening to start selling oil in currencies other than the dollar just prior to the Bush administration's 'regime change' George W. Bush mission.
In the year 2000 a TIME article stated that Saddam's purpose for making the change was for Iraq to no longer deal "in the currency of the enemy."
Then in 2006, just prior to Syria's Bashar Al-Assad being called by U.S. officials a genocidal war criminal who needs to step down, the Chicago Tribune reported:
Syria has switched the primary hard currency it uses for foreign goods and services from the U.S. dollar to the euro in a bid to make it less vulnerable to pressure from Washington. The decree signed by Syrian Prime Minister Naji al-Otari on Monday ordered government bodies and public-sector companies to use euros to pay for foreign transactions.
Two years ago Iran did the unthinkable banning the U.S. dollar in trade setting the ground work for replacing it in foreign trade transactions, sealing its fate. Almost immediately after, Iran dropped the U.S. dollar for the Euro in foreign trade transactions. A huge deal…
Three years ago, in 2017 Trump sanctioned Iran mere days after the country said it would stop using the U.S. dollar in response to the U.S. President's previous travel ban.
After that, Iran finally pulled the trigger and dumped the U.S. dollar. Israel then responded with "Intel" that Iran had nuclear weapons and had broken its nuclear proliferation deal. In short, most well-developed nations in the world have nuclear weapons; while some have signed the UN Nuclear Non-Proliferation Treaty, Israel has not. So for Israel to worry about Iran having the nuclear capability is a joke because itself has nuclear weaponry as Iran claimed in 2015.
It's laughable that Israeli Prime Minister Benjamin Netanyahu has  become everybody's nonproliferation guru. He is sitting on 400 nuclear  warheads, nuclear warheads that have been acquired in violation of the  NPT [Nuclear Non-Proliferation Treaty].
Whether the number of 400 nuclear weapons is too high or not doesn't matter its a fact that Israel has WMDs which is well established by the U.S. government in a 1999 DIA (Defense Intelligence Agency) report.
You can see where this is going if you follow the pattern of "country rebels against USD as a result (country) gets invaded by Uncle Sam's military."
In 2018, Trump rescinded the 2015 Iran deal from the previous administration and tensions really started rising between the two nations. Then in 2019, several key events happened — two oil tankers were "attacked" by Iran, Iran also claimed responsibility for the arrest and identification of 290 CIA agents according to its Intelligence Minister Mahmoud Alavi, which was immediately followed by U.S. naval exercises and a secret meeting at the CIA as Activist Post reported. The final event not mentioned above in previous paragraphs occurred in the middle of the year and was a trade off by the two countries shooting each others drones out of the sky. Then in 2020, less than a week into the New Year, Trump orders the assassination of Soleimani (a federal crime of premeditated murder for us common folks.)
If that's not enough, and it certainly should be, Iran accused the U.S. of terrorism in February of last year for a suicide bombing in the country's Sistan-Baluchestan province, and vowed to punish the "criminal mercenaries" who carried out the attack that killed 27 members of the elite Islamic Revolutionary Guard Corps. Armed group Jaish al-Adl (Army of Justice) claimed responsibility for the attack, which also left 13 other Revolutionary Guard members injured, Aljazeera reported.
Iran also blamed the U.S. for an attack in September of last year on its military parade where gunmen killed 25 people and wounded around 70, CNBC reported.
"All of those small mercenary countries that we see in this region are backed by America. It is Americans who instigate them and provide them with necessary means to commit these crimes," (Iranian President) Rouhani said.
The CIA has admitted that in the 1950s they hired Iranians to pose as Communists and stage bombings in Iran in order to turn the country against its democratically-elected prime minister Mohammed Mossadegh. So the argument that the CIA would never arm terrorists, let alone give them explosives, is null and void.
Further, as journalist Caitlin Johnstone pointed out, in 2018 the CIA set up an organization tasked with focusing on Iran.
Back in June the Wall Street Journal published a report  saying that America's Central Intelligence Agency had set up a new  organization whose sole task would be to focus on Iran under the direction of "Ayatollah Mike" D'andrea, an aggressive Iran hawk.
Its important to state for readers, Iran isn't like Syria, Libya or Iraq. This is an extremely dangerous situation and may in fact be the proverbial "gun shot" heard around the world that spurs us into another endless blood-letting war which could involve more than just Iran and the U.S. in an anticipated third global conflict.
The U.S. State Department has issued a travel advisory and stated for all U.S. citizens to leave Iraq immediately due to "heightened tensions." This is one of many signs that leads many to believe that war is on the horizon.
#Iraq: Due to heightened tensions in Iraq and the region, we urge U.S. citizens to depart Iraq immediately. Due to Iranian-backed militia attacks at the U.S. Embassy compound, all consular operations are suspended. U.S. citizens should not approach the Embassy. pic.twitter.com/rdRce3Qr4a

— Travel – State Dept (@TravelGov) January 3, 2020
CodePink has taken to Twitter calling for people to stand together against another war-mongering president, just as they did under George W. Bush and Barack Obama many times in the past. Join CodePink, Activist Post and many other activists as we collectively call for a halt to the generational planned military industrial complex (deep state) efforts for war with Iran.
The threat of war with #Iran looms over the US following Trump's reckless order to assassinate General #Soleimani.
We're taking urgent action against Trump's foolish calls to war by joining the National Day of Action this Saturday, Jan. 4! #NoWarWithIranhttps://t.co/6MiADAiNbW pic.twitter.com/QlbQEzxfxP

— CODEPINK (@codepink) January 3, 2020
Unsurprisingly, nearly four hundred law makers last year advocated for Trump to keep troops in Syria to "put pressure on Iran and Russia." Another piece to the puzzle, and a warning all this was coming, was a bill that was silently introduced in 2017 called H.J.Res.10 "Authorization of Use of Force Against Iran Resolution."
Although the bill never got further than being introduced according to Congress.gov. it's a huge blaring billboard that telegraphs the Trump administration's future military actions, if appointing former National Security Advisor John Bolton and CIA "we lie, we cheat, we steal" Mike Pompeo to Secretary Of State wasn't enough.
Last year's NDAA stripped provisions that called for no unauthorized war with Iran; the 18-year old Authorization for Use of Military Force (AUMF) passed after 9/11, and the Iraq war AUMF of 2002.
However, a poll was also taken last year by  Hill-HarrisX which showed that only 24% of Americans were for invading Iran. Beyond that poll, a total of sixty-two groups signed a letter to Congress telling them to oppose war with Iran.
Still, Trump goes ahead without the approval of Congress or the American people and commits a war provocation move by assassinating an Iranian general.
I'll leave you with this old tweet by Trump on Obama which ominously fits what he just did. Ironically a U.S. Col Douglas Macgregor warned Trump about false flag attempts to get him into war using his favorite TV network Fox News in 2019, unfortunately he didn't listen.
"I think the president needs to watch carefully for the potential for something like the Gulf of Tonkin incident," Col. Macgregor said. "Many of your viewers may not remember that it never happened and we could very well be treated to something like that in the Gulf. We should watch for that, and this is an example of President Trump's comments on fake news, he should not be sabotage by fake news."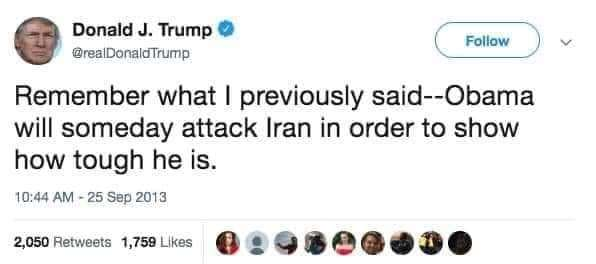 It's also worth noting that plans for a full-scale deployment of up to 120,000 troops to the Middle East were revealed last year.
For more on the history of CIA regime change on Iran see this authors previous article written in 2018 entitled: "U.S's History Of Attempting To Overthrow Iran Is Riddled With Conspiracy To Stage Conflicts #DisbandTheCIA."
---
Aaron Kesel writes for Activist Post. Support us at Patreon. Follow us on Minds, Steemit, SoMee, BitChute, Facebook and Twitter.

Image credit: Anthony Freda Art
Subscribe to Activist Post for truth, peace, and freedom news. Become an Activist Post Patron for as little as $1 per month at Patreon. Follow us on SoMee, Flote, Minds, Twitter, and Steemit.
Provide, Protect and Profit from what's coming! Get a free issue of Counter Markets today.