By Tyler Durden
France is bracing for major transportation disruptions throughout the country starting Thursday, as trade unions launch a strike in response to changes President Emmanuel Macron wants to make to the country's retirement system, while port blockades have resulted in widespread fuel shortages across the country. Much of the Paris Metro will be shut down, as will many national and international train lines, including certain Eurostar services. Flights will also be canceled, as air traffic controllers say they will join the protests through Saturday.
Hundreds of filling stations around western France have run out of gasoline and diesel as blockades of oil refineries enter their second week according to industry group UFIP. According to The Local, construction workers have been blockading refineries in Brittany since last week and a blockade at La Rochelle has resumed.
French media reported on Tuesday morning that 390 filling stations have no fuel at all, and another 389 have limited supplies. The areas affected include Brittany, the west of France, the south east coast area around Marseille and some parts of eastern France near the Swiss border.
For an interactive map of which filling stations are affected, click here.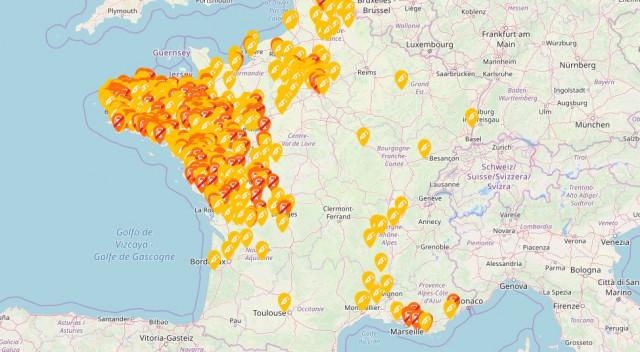 Workers are staging blockages at depots in Brest, Lorient, Le Mans and Vern-sur-Seiche. Further south, in the region of La Rochelle, another blockade was cleared at 4.30pm on Friday, but resumed at midnight on Monday. The blockaders belong to the public construction group BTP, Bâtiments et Travaux Publics ("Buildings and Public Construction"). They are protesting a fuel tax hike planned for 2020, which they say will have a negative financial impact on their companies. Until now, the so-called gazole non routier (GNR), used mainly by construction workers and farmers, is subject to a tax benefit that is planned to be phased out in 2020.
According to the workers this will increase their fuel prices by 45%, adding an hourly cost of about €10 for an average mechanical excavator, which they fear will hurt especially the smaller construction businesses.
The government suspended the fuel tax hike last December to appease the "yellow vest" protesters, whose main demands included abolishing the fuel tax.
In a separate dispute about a different type of fuel tax, truck drivers from the group Organisation des Transporteurs Routiers Européens will also be staging protests including rolling road blocks across France from Saturday, December 7th onwards. The French truck drivers are angry about a two cent increase in diesel tax and say their protest will start on Saturday, and could go on for an unspecified number of days.
The group's press release says that: "Tired of not feeling defended and heard, road transport companies will express in the street the legitimate anger of the profession." The protests will be "from December 7th and the following days".
The strike action could also lead to some disruption on the roads as one of the hauliers unions is involved and 'yellow vest' protesters have said they will be staging a day of action. Nothing has been specified yet, but in the past motorway toll booths have been a frequent target for 'yellow vest' demonstrations.
Their protest is not linked to the unlimited strikes that are hitting France from December 5th – those are over plans to reform the pension system – but will coincide with what is expected to be a very difficult weekend for transport as rail employees, Metro drivers, bus drivers, airline ground crew and air traffic controllers all walk out.
The last time the French government seriously tried to overhaul its pension system, in 1995, protests also paralyzed the country for more than three weeks and forced then-President Jacques Chirac to back down and accept a stinging political defeat. And although French transport unions largely steered clear of the yellow vest demonstrations over the past year, they are expressing the same anger that certain segments of the population have been abandoned by their leaders.
Adding to the chaos, yellow vest protesters could join these demonstrations. Teachers unions, postal workers, hospital workers and the police may also support the strikes.
"It's the coalition of all frustrations, and it demonstrates the isolation of the elite, the isolation of the president, even the personal rejection of Macron," said Dominique Moïsi, a French political scientist and the author of a recent book on emotions in politics.

"There is a deep sense of injustice right now, that inequalities have exploded, that the state is much less protective than it was of the weak, and much more protective of the strong," Moïsi said.
France uses forty-two different retirement schemes and under some of those schemes, such as those for train drivers and Paris Metro operators, certain employees can still retire as early as age 50 or 52. Paris Metro drivers are entitled to monthly pensions as high as $4,100, according to a government report in July. Many private-sector employees, by contrast, can retire only at 62, and the average government pension ranges from $1,400 to $1,600 a month. As we showed recently, France is the "winner" among all nations in the expected number of years a worker can expect to live in retirement.
Alas, such a generous arrangement is no longer sustainable, which is why Macron's idea is to create a universal points-based system that would calculate pensions in the same way for everyone, regardless of their profession.
This has angered the powerful French labor unions, which have called for Thursday's protest and who insist that Macron's new calculation would harm lower-income workers and those who have been temporarily employed.
This article was sourced from ZeroHedge.com
Image credit: Unsplash/Norbu Gyachung
Subscribe to Activist Post for truth, peace, and freedom news. Become an Activist Post Patron for as little as $1 per month at Patreon. Follow us on SoMee, Flote, Minds, Twitter, and Steemit.
Provide, Protect and Profit from what's coming! Get a free issue of Counter Markets today.