Jason Douglass
Infowars
Earlier this week The U.S. Department of Agriculture's Animal and Plant Health Inspection Service (APHIS) reopened public comments on the topic of deregulating a particular line of genetically modified (GM) corn.
Press Release from APHIS January 3, 2011:
USDA Seeks Public Comment on Environmental Assessment for Petition to Deregulate Genetically Engineered Corn
WASHINGTON, Jan. 5, 2011 – The U.S. Department of Agriculture's Animal and Plant Health Inspection Service (APHIS) is seeking comment on a petition to deregulate a particular line of genetically engineered (GE) corn. APHIS has drafted an environmental assessment (EA) and a plant pest risk assessment and is seeking public comment on these documents.
APHIS received the petition for deregulated status from Pioneer Hi-Bred International for its DP-32138-1 corn. This corn has been genetically engineered to produce male sterile/female inbred plants for the generation of hybrid corn seed that is non-transgenic. Interstate movements, importations and field tests of this corn are currently regulated by APHIS.
After receiving the petition for nonregulated status, APHIS drafted the EA in accordance with the National Environmental Policy Act of 1969. This document considers whether to grant nonregulated status or to keep it as a regulated article. APHIS also prepared a plant pest risk assessment to evaluate if this GE corn is likely to post a plant pest risk. Public comment is welcome, and all comments will be considered when making the determination about whether or not to grant nonregulated status for DP-32138-1 corn.
This notice was published in Jan. 3 Federal Register.
Since these plants are not engineered to produce insecticide or to be tolerant to insecticide, it is argued in an APHIS assessment completed by DuPont owned Pioneer they do not need to be regulated. In addition, it is argued that since the progeny of this particular lined of GM corn lack the 32138 SPT insertion they are therefore non-transgenic and should be deregulated.
Furthermore, the argument proposes, these crops are genetically isolated and cannot self-pollenate or cross-pollenate making them eligible for deregulation.
These are all sound arguments and surely meant to force the deregulation of these products. These arguments fail to assess the actual dangers associated with GMO products focusing tightly on the legal loopholes that would allow this experimental product out of the lab.
All over the world 'contained' fields of 'isolated' GM products have contaminated neighboring farms.
In Pioneer's own assessment it is admitted this process in not foolproof:
Small amounts of the transgenic 32138 SPT maintainer may enter into feed channels via signed contractual agreements.
Instead of a discussion on deregulating this particular line of GM corn, the debate should center on whether to completely ban genetically modified organisms altogether as so many other countries have already done including Germany and France.
If you are concerned about GM products being released from the lab into the wild and would like to have your thoughts heard please submit your comments here: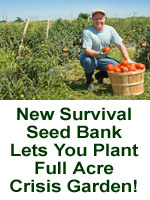 Consideration will be given to comments received on or before March 4. You may submit comments by either of the following methods:
Federal eRulemaking Portal: Go to
APHIS
to submit or view comments and to view supporting and related materials available electronically.
Postal Mail/Commercial Delivery: Please send two copies of your comment to Docket No. APHIS-2010-0041, Regulatory Analysis and Development, PPD, APHIS, Station 3A-03.8, 4700 River Road Unit 118, Riverdale, MD 20737-1238. Please state that your comment refers to Docket No. APHIS-2010-0041.
RELATED ARTICLE:
7 Reasons Food Shortages Will Become A Global Crisis